So, I have so much to say now, but I am committed to telling the story as it unfolded for me, so, please, be patient with me.  After the dream that helped me understand that my faith was key, and the sweater God had used to show me I was already healed, I now wanted to understand a little bit about the choices I had made.  This is when God began revealing to me a few other neat things.  First of all, the dead bees.  You may be wondering when that storyline was going to finish.  Well, after my dream, I was out for lunch, still in California, heading out to have lunch with Jason's mom.  Jason and Caleb and I were parked in the Olive Garden parking lot and a bee lands on our windshield and dies, right there in front of my eyes.  I was immediately reminded of the dreams I had and wondered what God was trying to tell me.
After lunch, Jason's mom and husband invited us back to their place to hang out.  We decided to take a walk to the park nearby so Caleb could play.  After playing in the park for a while, we started walking towards the tennis courts at Caleb's exploring notion.  When we get there, a TON of dead bees were all over the ground.  I was really curious at this point and not wanting to miss something God had for me.  When we got home that night I sent an email to a few of my prophetic friends and asked them if they could ask God about the dead bees for me.  The funny thing was, when I emailed my friend Jen on facebook, I left out the dead bees part and so I basically just asked her to ask God about it for me.
The second thing God revealed to me, was through Jen, who ended up asking God for a whole bunch and shared with me a full page prophetic Word.  Here is the pertinent parts of her prophetic word:
Papa I just thank you for Jackie and I thank you for your heart towards her.
I feel as though God is say that you are in fear of what is happening, He says I need you to stand strong in what I am asking you to do. I know that this may be difficult for you right now but I want you to know that you can trust me and trust in what I have said to you. There are many walls that are trying to block your way right now – but I am opening a door that nothing and no one can shut. You have been faithful to me and my heart and I have heard your heart. I know your desires.
I see this picture of you holding this white rose (with a hint of pink on the tips of the petals), and it's cradled in both your hands. You are just staring down at it and marveling at its beauty. (It's quite cool really – I felt to go and look up a picture of the rose and I found it! The rose is called the peace rose. How cool is that!) The picture I saw of you holding the flower in your hands was of you admiring it – and as you stared at the rose these dew drops started to appear on the pedals. As I see these dew drops on the petals I am reminded of Gideon, where he tests the fleece. I feel as though God is saying that you were waiting for a sign, and that this dew drops on the petals is a confirmation for you. That God is confirming something that you have been feeling, something that you had been waiting for.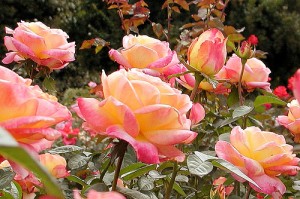 So, right of the bat, her Word is telling me about fear.  And this was a confirmation to me that I had in deed made choices from a place of fear instead of faith and that God was confirming to me I can trust Him.  And then, the next day, we were driving in the car, and Caleb is in the back watching a movie on Jason's Ipad.  Bee Movie.  He's been nonstop watching Bee Movie for days now.  I hadn't put two and two together that God was still trying to convey a message to me about the dead bees until I heard one of the lines in the movie talk about how a bee works.  And instantly I had this thought…. they aren't just dead bees, they are dead worker bees.  And I felt like I had heard the phrase dead works before so I did a search in my bible and read this scripture:
Heb. 9:14 how much more shall the blood of Christ, who through the eternal Spirit offered Himself without spot to God, cleanse your conscience from dead works to serve the living God?
To me this scripture spoke about doing anything, any action, without faith.  Meaning, taking action and making decisions out of a place of sin, a place of fear.  And I realized even more so that I had not been fully trusting God for my healing.  By taking actions to heal myself through worldly means, I was putting into action Dead Works.  And one of my friends responded to my email and suggested about a play on words, DisoBEEdience.  Absolutely.  I was acting in fear, of my own accord, and disobeying the Word of God to walk in faith.
So, all that was left to do was fly home to Canada and tell the Naturopathic doctor that I believed I had already been healed and didn't want to continue any more treatments with him because I didn't want to sabotage my healing by making agreement with the devil that I was still sick.  He actually really understood and said that belief in your healing is one of the biggest indicators of those who make it through cancer.  Well, Amen, I was going to walk in faith and trust God at His Word in the bible, even if it was the scariest thing I ever did in my life.