Well friends, the day is here where God's promise has taken the next major step in being fulfilled.  It really hasn't been a long wait since I found out in January that the full healing of cancer I was believing for was a reality, and now this week I found out and confirmed by peeing on the stick that I am PREGNANT!!!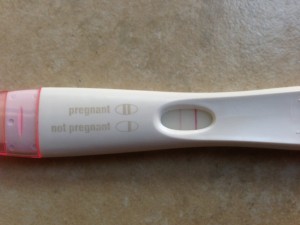 This has been a long time in the waiting, but certainly no where near as long as Abraham and Sarah had to wait for their promise to come true.  And yet, the 9 months of waiting till the birth of this miracle seems like such a long wait.   For those who have been following along in this blog, you are aware that I believe twins is in God's plan at some point.  Not sure if this is the pregnancy He plans the multiple pregnancy or not, but either way, Jason and I are excited and will LOVE the life or lives God has given us to care for and raise up in His truth.
We won't be getting any ultrasounds or tests done, as we did during the pregnancy of Caleb, so, we won't know for sure of the sex or how many are in there unless the midwife can tell, so, sometime around December 19, 2013, the due date, we will know for sure.
I thank God for teaching us faith and perseverance through this ordeal so that we will receive what He has promised.
I thank you all for your prayers and support.  And I ask earnestly for your continued prayers as I carry this pregnancy to full term!