It is now May, 2012. We have been home for approximately a week and I get pregnant. I knew it right away but waited until the actual day I was supposed to have my period to take a pregnancy test. The test of course was positive and I am overjoyed. So much so, I actually posted this photo on facebook.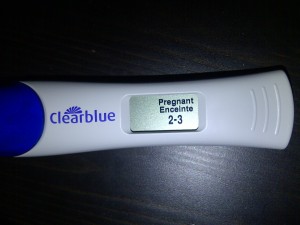 The prayer and forgiveness worked and I am now again walking in my Promise from God. Unfortunately, it wasn't His timing yet as I still had some trials to endure. The next trial was that I began to bleed and so a very quick trip to the doctors and an ultrasound actually reveal that there is no baby. What the doctor believed happened is that the sperm and egg did connect and began pumping out pregnancy hormones but that either nothing began forming or the egg did not implant and just came out with my next period which was only a few days late. But it isn't really what the doctors think that matters to me, it's what God thinks about the situation that is truth. And to be honest, I'm still seeking Him as to why this happened. What did He want me to notice or feel through this? Why did it happen?
This was another very trying time for me emotionally and spiritually. I had been so sure I had done everything right this time. I had prayed and had forgiven. Why didn't it work? Thankfully God has revealed to me the error of my thinking and has helped me to understand that I cannot earn His blessings or His grace. They are mine without effort. Without performing. But it still hurt to have another loss. And as scripture reveals over and over, we truly can trust in Him. As I am coming to learn by experience. Proverbs 3:5 says:
Trust in the Lord with all your heart, And lean not on your own understanding;
At least I can still be thankful that I am no longer experiencing pain each month. And yet, as I have found, there are so many more things to be grateful for that were yet to come. One of which is a woman named Evelyn. God has brought her into my life at key moments to pray for me and teach me His ways. She is the mother of 10 so a calling and an anointing flow from her in grand proportions. I haven't asked permission to share what she shared with me when we ran in to each other at a Catch the Fire conference but she taught me to ask God what He is up to because things in the natural have a direct meaning to things in the spiritual. And she mentioned twins so I was reminded yet again of His promise to me and the vision both Jason and my mom has a few years ago.
So although I was still so confused and disappointed, I chose to trust that God had a plan as Jeremiah 29:11 so clearly teaches:
For I know the plans I have for you, says the Lord, plans to prosper you and not to harm you, plans to give you a future and a hope.
At this time, I'm going to put it out there for all of you who are reading my blog. What plans does God have for you? Do you know the promises He has already given you that He is asking you to stand in faith about? If you are unsure, pray and ask Him for Jeremiah 33:3 says:
'Call to Me, and I will answer you, and show you great and mighty things, which you do not know.'