On the way home from that strange doctors appointment I immediately resorted to my own knowledge. Despite still having faith in His promise I actually didn't ask Him what to do about it. I asked my mom to swing by the natural health food store and she bought me over $300 in organic vegetables. Trusting in my own head logic I believed that eating a complete alkaline diet would completely irradiate the cancer and so that was the strategy I was choosing to count on for healing.
I got home and began juicing those great vegetables into the most potent vegetable juices you could imagine. I started googling natural cancer treatments and I called my naturopath for some advice. She referred me to a Naturopathic Doctor who specialized in cancer care who I called instantly. Remember all this while, I still hadn't prayed for advice or guidance. A least my son was so loving the juicing. Here's a photo of him doing it all on his own. He's a juicing natural. So cute.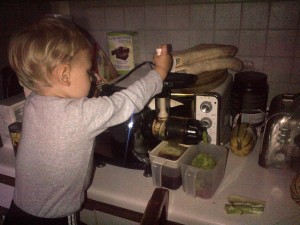 Thankfully our Lord is so faithful even when we exclude Him. I want to stress to you all that He always has the BEST plan. Thanks to my good friend Amy for that exact quote but scripture also tells us that He will make our so-so plans into good in Romans 8:28:
28 And we know that in all things God works for the good of those who love him, who[a] have been called according to his purpose.
So even though God will work all things for good, He does have the BEST plan in mind first. And if you ask Him, He will tell it to you. I clearly did not ask for the best plan, I was just counting on Him to make my plan good. I hope you understand the difference, because it really is so huge.
Anyway, I call and make an appointment with the special naturopathic doctor and I am juicing and eating vegetables, vegetables and more vegetables. I was excited about the cancer doctor though because his name was Jason. And I know the meaning of Jason because of my husbands name. Jason means Healer. Woohoo. I had a God appointed healer doctor. I was feeling very confident about MY plan.
Little did I know that coming very soon, God was going to begin revealing to me the error in my thinking. Praise Him for Mark 4:22:
22 For whatever is hidden is meant to be disclosed, and whatever is concealed is meant to be brought out into the open.
He knew my heart and the reasons for my choices and He loves me so much He was going to reveal it all to me so I could truly walk in freedom and peace. I will share more in future posts.