So, about a week later Jason and I are driving home from Caleb's tumble tots class. It's about a twenty minute drive straight up Bathurst for all those who know the area. We have to go through more than ten sets of lights. We are two lights from being home and we stop at a red light and Jason says this is the first red light we have hit. I immediately say out loud "okay God, what do you want us to notice – why are we stopped here".
I look around and see a church just in front of us on the corner and know from driving past this corner that there is also a church on the opposite corner. The sign in front of the one church says Church of the Community of Temperanceville. I crank my head all the way around and see that the other church has a similar sign. I've never noticed either of those signs before. I've been driving up this street for years since we moved to Aurora and I used to drive that road to work 5 times a week for 5 years. Not once have I paid attention to the sign about a community of Temperanceville. I thought this was King City. When was it ever Temperanceville?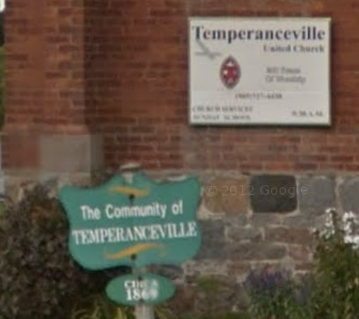 I didn't know what that word means, temperance, so I googled it. It means moderation and self-restraint, as in behaviour or expression. One definition adds, "especially in eating or drinking". Well again, I don't turn to God and ask Him what He is actually trying to tell me, but I take this as confirmation that MY plan of eating alkaline and seeing the naturopathic doctor is going to heal me.  Using moderation in my eating and drinking will do the trick!
It's funny, I've had so many revelations from God in the past month and I didn't fully understand what God truly meant to show me that day until I went and googled it again today to include in the blog. It was in actual fact more about the word "temper" and using self-control with my words and actions, the self-restraint, as in behaviour or expression part. Instead of jumping to anger, impatience, or frustration, He wants to teach me how to BE the fruits of the Spirit instead. Galatians 5:22-23:
22 But the fruit of the Spirit is love, joy, peace, patience, kindness, goodness, faithfulness, 23 gentleness and self-control. Against such things there is no law.
I mistakenly used His Word to me as confirmation that MY plan was right, but He wasn't going to give up. He kept speaking to me about the fruits of the Spirit and my BEingness. That revelation came a few weeks later in California, but as I said, God wasn't going to give up on getting through to my heart because as 1 Kings 8:61 says:
…your hearts must be fully committed to the LORD our God, to live by his decrees and obey his commands…"
And at this point, I was more committed to MY plan than obeying His commands. And as He also revealed, I had made an idol out of the "treatments" and "alkaline eating".  One definition of an idol is "anything that takes the place of God" or in simpler terms – anything you put your trust and security into when you should in fact be trusting God for that instead.  I was trusting in the treatments and diet to heal me and fulfill the promise of more children and hence, I had made an idol out of them.  As He commands in the first of the ten commandments in Exodus 20:2-3, we must not have any other God's before Him.  If we make idols out of anything, we have essential decided to worship them.  Trust in them.  That's breaking the very first commandment.
2 "I am the Lord your God, who brought you out of the land of Egypt, out of the house of bondage.   3 "You shall have no other gods before Me.
Future posts will reveal all the coolest things God has been showing me. Along with some of the things He has asked me to do in obedience.  And I ask you, as you were reading this, did the Holy Spirit reveal anything to you that you have been putting your trust and security in over the Lord?  As I'm learning, you really can trust in Him and the only way to know that for sure is to DO IT.